Prescription
What type of sunglasses options do you do (Sunglasses Guide)
You can choose to have sunglasses lenses for any of our stylish frames. You can choose from full dark tints or gradient tints which are dark at the top and fade to clear at the bottom. These provide a nice fashionable feel and are also great for driving.
All our sunglasses lenses come with full UVA/B protection, making them stylish and safe- (UVA light passes through to the back part of the eye, to the macula, and can damage central vision leading to short and long term negative effects on eye health and vision).
What are polarised lenses.
When selecting your lenses you have an option for sunglasses that are polarised and non-polarised.
Non-polarized lenses treat all sunlight equally and reduce the overall intensity. This offers protection for the eyes but will not tackle shimmer and sparkles if you're around water, snow, or glass.
Polarised lenses have a special chemical applied to them to filter bright reflected light. The lenses reduce glare from horizontal surfaces such as water, the road and snow. The image below shows a side by side comparison of polarised and no polarised glasses.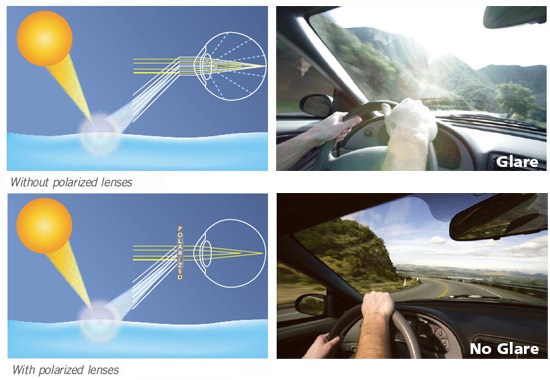 How do I choose sunglasses: This can be done on when you select your lens on the product page. Click on 'Select Lense' button and follow the instruction until you reach the 'Choose Your Lenses Type' sub-page. You can then select sunglasses and any other lens options you need.